Bowling News
Get in touch if you have any Crown Green Bowls news you would like for us to share!
WELCOME TO THE 2020 GOLDIESLIE BOWLING SEASON.
The green opens on Saturday 28th March at 2.00pm
Fixture booklets should be available on that day
League bowling commences on saturday 4th April (Parks) & Tuesday 7th April (Over 60's)
Strong interest in Saturday league bowling has prompted a provisional entry for a 'C' team into The Warwickshire County Parks League. This application is subject to the approval of the league and from the Goldieslie Board of Mgt. 'C' team home matches will usually be played in the mornings and away games in the afternoon
Events & representative matches will be published in the fixture card and on this Website in the next few weeks
This will be our 10th League team representing the club each week.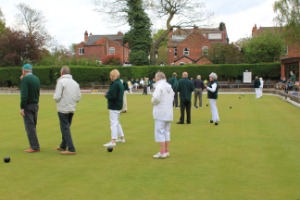 NEW MEMBERS COME AND JOIN US
Goldieslie Club always welcomes new members. Look on our bowls page for the wide range of bowling on offer and fill in an enquiry at the foot of the page. If you would like to see our facilities come down and meet us on green opening day mentioned above. If you are a beginner we will show you the ropes.